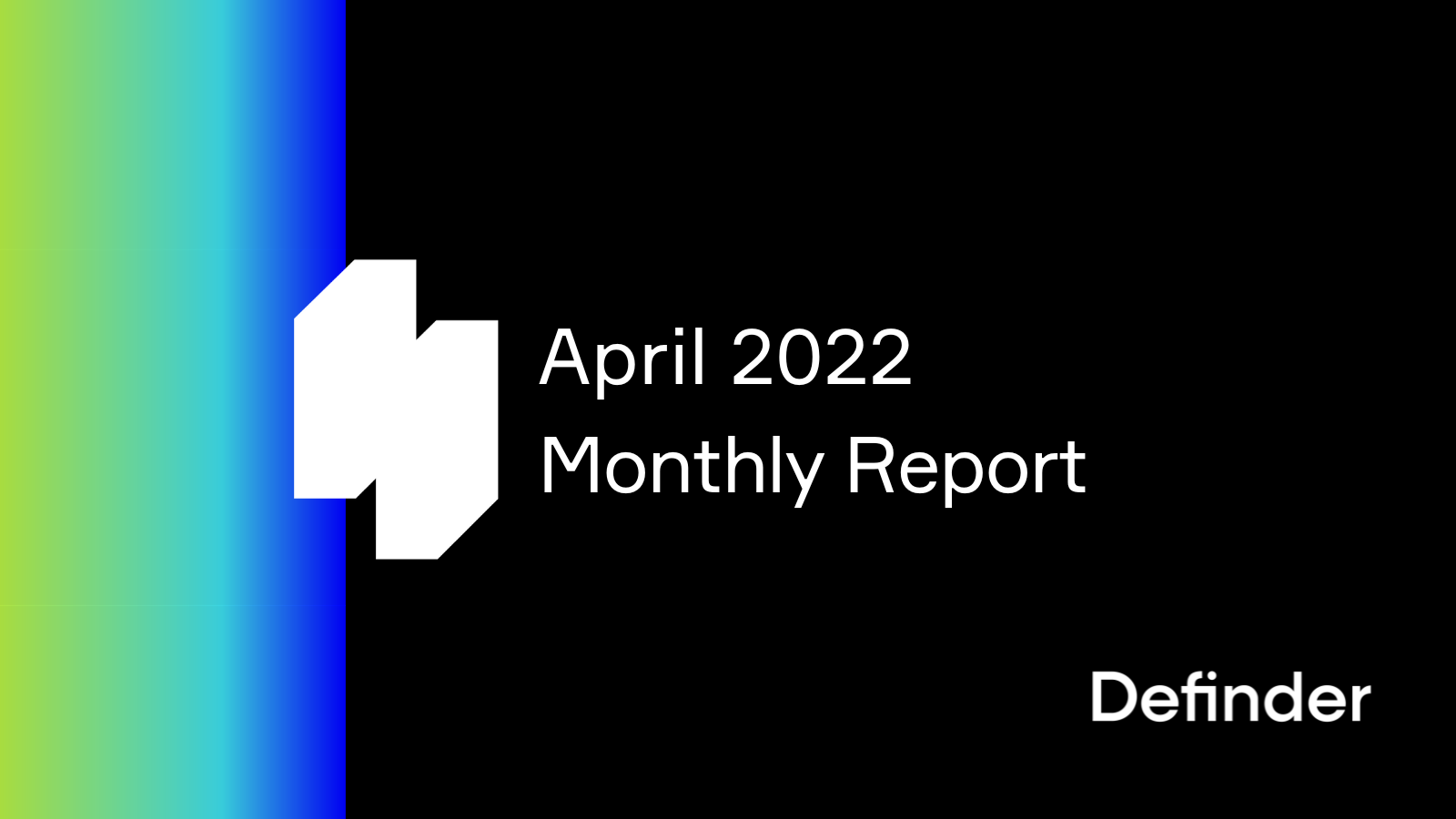 Monthly Report – April 2022
April has been a productive month for Definder as we've been hard at work on platform development, new collaborations, and growing our community. But let's talk about everything step by step!
Following the plan, we have released Light White Paper. Our main goal is to make a working product that will be understandable and generate profit for users. We have also collected all your questions and will soon update the White Paper. So now all the necessary information is in one place. Thanks to this document, everyone can learn more about DF platform.
Throughout this month, we didn't lose touch with you! Feedback in the form of questions, wishes, and criticism is a very important part of creating a product. We would like to express special gratitude to those who joined us during Airdrop. Thanks to you, we are getting better.
Also, an important event was the cooperation with two centralized exchanges: HitBTC and Coinsbit. We successfully held an AMA at Coinsbit, where we introduced the audience to our project. Cooperation with these exchanges will increase trading volumes and liquidity, as well as allow you to make trading even faster and more securely.
The main news of this month is the transition to Binance Smart Chain. This gives Definder access to 130 million new users worldwide, including Asia, and allows trading on decentralized exchanges (Binance DEX, Pancake Swap, etc.), and opens up many technical possibilities. Binance Chain offers significant benefits to Definder community by providing token holders the freedom and security to trade their DNT without relinquishing custody over their tokens. With secure wallet and trading options available through this new relationship, the community can enjoy peace of mind when holding and trading their DNT. Binance Chain also offers significant benefits to our community, giving token holders the freedom to trade their DNT, a secure wallet, and new trading opportunities.
We started the swap process in April. It started on the 30th and will last exactly one month, until May 30th. We recommend that you make the exchange as soon as possible because, from June 1st, all SLT tokens may be lost.
For you, we tried to make the swap process as smooth as possible. During this time, you can exchange 1 SLT token for 2 DNT tokens. For holders of SLT tokens on centralized exchanges (WhiteBit, HitBTС, CoinsBit), swap will take place automatically on May 16th. If you want to make a manual swap, then please follow these instructions and receive DNT within a few minutes after the transaction. The first benefit of swap is already here – Pancake Swap is available for trading. The amount of DEX will increase soon.
Despite a short pause in our work, Definder team meets all deadlines. We rested, gained strength, and confidently moved on. Every day the team works on the product, and very soon you, our community, will see the results!
Thank you for staying with us. Here are the plans for next month:
Complete swap with the maximum number of participants;
More interaction with community;
Continue to work on the DF platform's development;
Developing project through collaboration;
Opening a representative office in Asia.
We are moving according to our strategy, and once again thank you for your trust!