Is Purpose-Built Student Accommodation Still An Excellent Investment Opportunity in UK?
While asset tokenisation continues to make serious strides, the discussion persists: what is the ideal asset type that can be easily tokenised, and whose shares are perfectly suited for digitalisation? Smartlands research team has the answer
Market outlook: unambiguous and hungry
Student accommodations remain an attractive asset class in the UK where specialist funds, REITs and particularly overseas investors are looking to benefit from Sterling's current weakness. The investment community continues to chase long-term stable income in a low-interest world where more traditional property sectors look less attractive than they have historically. Thus interest for student property remained strong throughout 2018 with prime operational assets being in exceptionally high demand.
UK universities continue to attract an increasing number of students from outside the UK, with the number of EU students growing by 63% and international students by 215% since 1999/00. There are now over 285,000 students from outside the UK, making up nearly one quarter (23%) of the student population.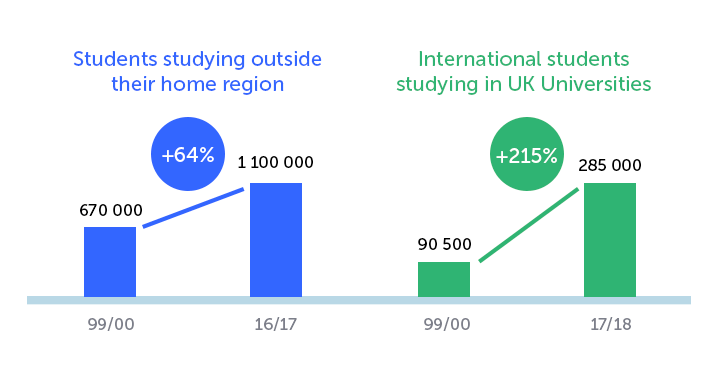 Scotland continued its trend of increased applicant numbers for the last five years, with a 2% year-on-year increase. The quantity of non-EU placed applicants has also increased, rising by 4% from last year and at almost 37,000 now represents the highest number of non-EU applicants on record.
Overall the demand picture remains robust and total student numbers are now at their highest level since their peak in 2012/13, following the rush to get in before the fee hike was introduced. The impact of Brexit remains a lingering uncertainty, and its potential implications for EU students is something to watch. Although, Sterling's weakness continues to make the UK more attractive to overseas students and should continue to provide relief if Brexit is going to go badly unless immigration policy negatively affects non-EU students.
Beyond this, student accommodation has further positive underlying dynamics driving the investment case:
– The enduring strength of the UK higher education system, with excellent international appeal.
– Strong defensive characteristics, outstanding performance during previous recessions.
– Rental growth is outperforming inflation in recent years.
– An enticing demographic case with more students continuing to enter higher education and the global middle class projected to grow significantly.
The demand for PBSA has led to the UK's development pipeline reaching historically high levels (although this varies significantly between cities). High levels of development are likely to continue, mainly as many of the major operational portfolios have been traded recently. In this scenario, tokenization presents an invaluable opportunity for a sophisticated investor looking for ultimate liquidity.
PBSA as an asset class of its own
For the last several years, investors redirect their attention to alternative asset classes, among which student housing is one of the most prominent ones. Essentially this sector is benefiting from a structural tailwind, together with other alternative sectors. We expect this trend to continue over the longer term as PBSA as an asset class is far from mature.
Another reason for the UK student accommodation market attractiveness is its counter-cyclical nature: student numbers typically increase during an economic downturn, as people look to "up-skill" or stay in higher education for longer in a weaker labor market. Ironically, Brexit might just give students in Britain the reason to stay in school for an extra year or two…
According to PWC's survey "Emerging Trends Europe" in 2015, just 28 per cent of survey respondents said they would even consider investing in alternatives. This year, almost 60 per cent of respondents are already investing in alternatives in some way, and 66 per cent wish to increase their holdings. Hotels, student housing, and flexible offices are the sectors where current exposure is highest while student housing tops the wish-list going forward.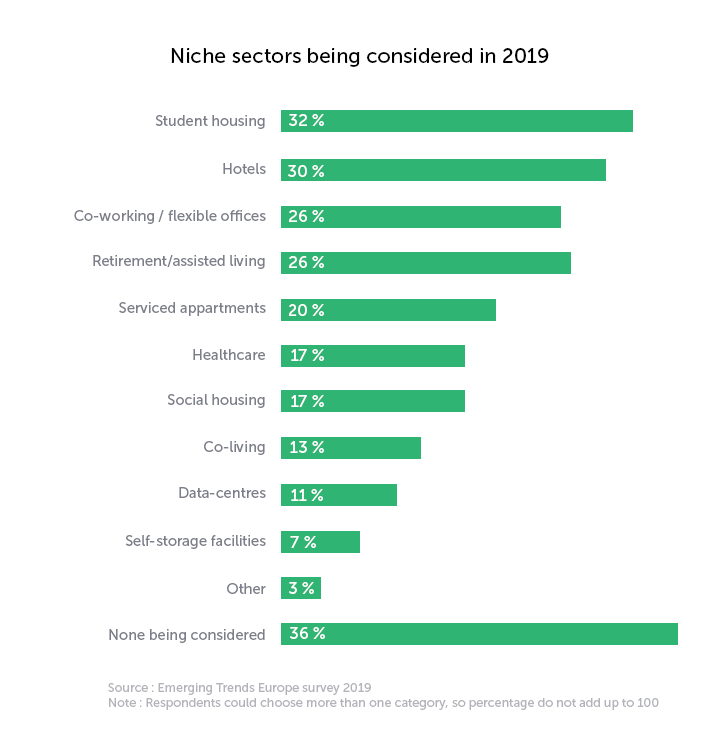 The City guide
Naturally, one would expect London to be a top performer when it comes to any type of commercial real estate, let alone student accommodations. But the Smartlands research team has found the "London solution" to be much less straightforward than we expected.
London is now home to 85,302 purpose-built bed spaces, with 58% of these now provided by the private sector. Despite ongoing development and a significant pipeline, the market still suffers from structural levels of undersupply, with the London Plan suggesting a need for 20,000 to 31,000 additional bed spaces by 2025. Development has been impacted by high land costs, competition from other uses, and the impacts of the Community Infrastructure Levy. The London plan now sets out a requirement for providers to deliver an element of "affordable" bed space priced at or below £155 per week where no agreement is in place with an institution. With an average private sector en-suite price of £223 per week, these rents are 74% more expensive than the national average on an annual basis, which is to say that, evidently, UK students are being slowly but surely priced out of the Capital
At a high level, rental growth in London has been almost flat and just under 2% across the other locations. It's important to emphasise that despite this, there is a lot of variance between locations with some returning healthy rental growth and others showing oversupply and falling rents, despite healthy demand at the national level.
At the same time, Nottingham saw one of the biggest increases in purpose built beds, with almost 21% more than last year. There are currently over 54,000 full time students within Nottingham of which over 13,000 (25.0%) are offered accommodation by Universities in "halls of residence". 11,000 (20.2%) students are offered accommodation by unaffiliated private sector landlords in purpose-built student accommodation.
On the other hand, almost 30,000 (54.8%) full time Nottingham based Higher Education students are unable to access university or private sector purpose-built accommodation. Therefore, for the foreseeable future the majority of students will live in rented flats and houses often in conditions well below their expectations ‒ something to remedy with an all-encompassing strategic investment program.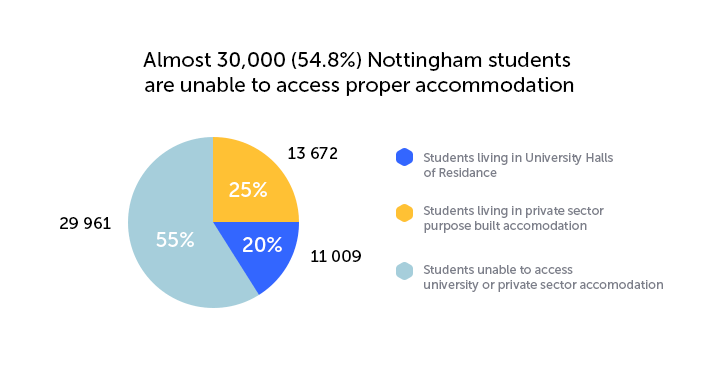 Glasgow with its 16% increase and Cardiff and Coventry both showing roughly 11% increases in supply, are experiencing the same "magic circle" difficulty: to attract students, a university needs quality accommodations, but in order to arrange those, it needs investment funds and tuition money. Birmingham, for example, is handling this problem by reducing the overall purpose built supply: private accomodation in the city are abound and relatively cheap. Cambridge, Edinburgh, Canterbury and Reading are not adding purpose built beds: students willing to enter the legendary institutions in those cities usually know what they are getting into.
One interesting variable we've found is the distance to a university. The schemes in Liverpool located within a five-minute walk of campus have achieved healthy rental increases of 2.2% this year, while those over 15 minutes away have seen rents fall by 0.9% on average, indicating a clear trend: properties situated within a walking distance from a university bring stronger returns.
The same trend is observed in Newcastle where a huge supply of new bed spaces this year has seen heavy discounts: while no discounting is recorded in schemes located within a five-minute walk of the Newcastle University, 26% of all properties situated more than 15 minutes away were discounted for 2018/19.
Bottom line: PBSA is an excellent investment opportunity
Investor activity in the UK commercial market has been resilient over 2018, with investors remaining pragmatic as the UK continues to be viewed as a stable global property market and Sterling's weakness adding appeal.
The fundamentals of the UK's PBSA are showing that the sector has once again formed a prominent part of the broader UK commercial investment market, with continued investment from both international and domestic investors throughout the year.
There are also considerable opportunities for security token issuers on the Smartlands Platform to work directly with universities to improve or rebuild their existing accommodation. Surveys suggest that applicants are placing increasing emphasis on the student experience and accommodation quality when choosing a university and it is now also a consideration in some university league tables. A lot of existing stock requires regeneration and partnerships can help deliver excellent results for both parties and address many of the development challenges.
Overall, the market is still far from mature and provides for an increase in valuation multiples, while the rent growth rate outpaces inflation (0,6%) by pushing valuation up even further. All of the above makes investing in UK student accommodation property a viable opportunity for double-digit returns in case of proper investment strategy and property management.
Information, not advice
Our publication does not offer investment advice and any information we provide should not be construed as investment advice. We provide information and education for investors who can make their investment decisions without advice.
The information contained in our publications is not, and should not be read as, an offer or recommendation to buy or sell or a solicitation of an offer or recommendation to buy or sell any securities. Our publications are not, and should not be seen as, a recommendation to use any particular investment strategy.