Tokenisation of Green Bonds is a Major Benefit for Issuers and Society
In a July 19 blog post, Smartlands made a point of paying special attention to companies involved in greentech and vowed to "contribute to sustainable global agro-economy, eco-conscious property developments and other sustainability projects in the most vulnerable areas of the world." It gives us great pleasure to see that banks and investors as starting to realise the benefits that can be derived from the use of blockchain technologies in issuing bonds, including green bonds. 
Twelve years ago, the first-ever green bond was issued by the World Bank. Today, although they still account for a fraction of the value of the overall bond market, the popularity of green bonds is rising fast. Issuers are favouring this type of sustainable debt securities because of the positive impact they have on society.
To be granted green bond status, an issue needs to undergo a series of audits and comply with the so-called 'Green Bond Principles'. Current technological and digital tools are allowing to significantly simplify and expedite the otherwise complex arrangements, thus contributing to drive their popularity. Indeed, the use of DLT allows storing information in a completely secure and fully traceable, immutable manner, simplifying the transaction and increasing the transparency thereof.
The use of DLTs in the issue of green bonds by banking and other institutions is the focus of Blockchain: Gateway for sustainability linked bonds, a report by UK lender HSBC and Sustainable Digital Finance Alliance (SDFA), which shines the spotlight on two of the standout features of this type of operations: sustainability and technology. The use of blockchain and encryption algorithms can help boost confidence in the bond market, and HSBC underscores the opportunity that this technology represents for the green bond market and its complete tokenisation. The value, according to the report, is particularly relevant in three key stages of the issue: structuring, and distribution; transfer of ownership, payment and settlement; and proving the relevant impact of the investment project.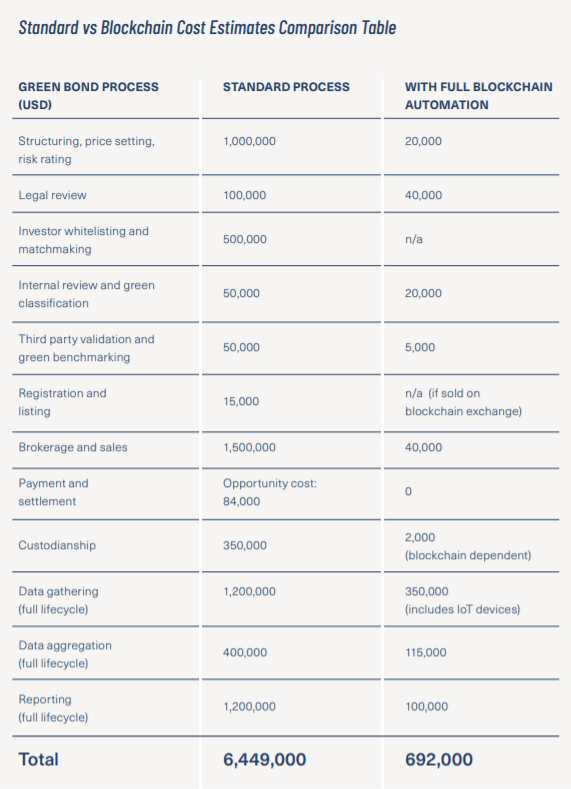 Source: HSBC
According to the HSBC report, there are two main benefits of using blockchain for green bond issues: efficiency and credibility. Thanks to blockchain, tokenised securities are more efficient because they save costs, time, and prevent third-party meddling. The foundation of the green bond structured as a smart contract capable of automating all complex steps of creating competitive advantages for issuers and investors is essential for all issuance-related processes. Also, thanks to the technology's built-in encryption features, the transfer of value and the token itself are virtually fraud-proof.
As Smartlands continues to be deeply involved in the sectors of the real economy pertinent to extraction and collection of natural resources, global property market, commercial and residential real estate, agritech, telecom, and IT, focus on green energy remains an integral part of our message. We are now considering participation in several projects designed to realise a number of models of sustainable living in various parts of the globe and promoting healthy green environmentally-friendly lifestyle will always be our top priority.