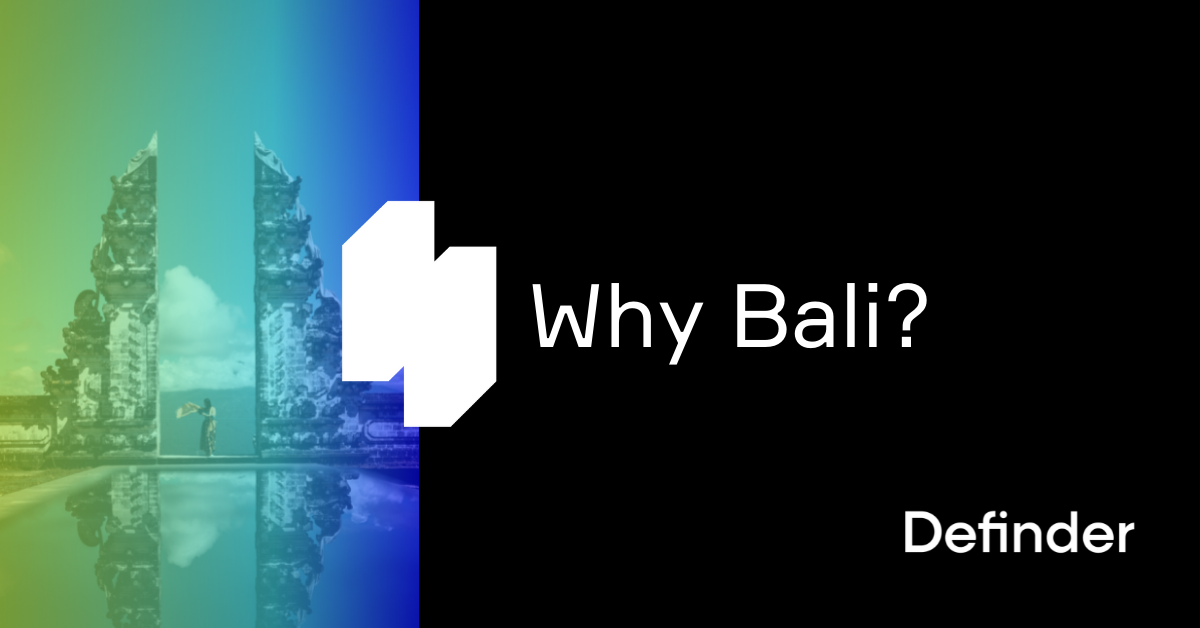 Why Bali?
In fact, everything is simple. This follows logically from our consistent actions. The transition to a new blockchain, the analysis of the global market, and the ability to listen to trends showed that Asia is a great choice now.
Bali is one of the provinces of Indonesia, quite popular all over the world. With over 270 million people, Indonesia is the fourth-most populous country in the world and its economy is one of the largest markets in Asia. It has an attractive tourist environment and thus attracts a global community of progressive people.
In terms of crypto friendliness, Bali is also very positive. Сryptocurrency is legal in Indonesia. Cryptocurrencies were legalized in September 2018, when the Ministry of Trade approved the trading of Bitcoin (BTC) and crypto assets as commodities. The Futures Exchange Supervisory Board (Bappebti) is in charge of cryptocurrency and blockchain regulation in the country. There has been notable progress made towards establishing a comprehensive legal framework that will ensure the crypto industry flourishes in Indonesia.
Traditional stocks are losing ground to cryptocurrency. In 2021, more than 11 million Indonesians bought or sold cryptocurrency, according to Vice Minister of Trade Jerry Sambuaga. In comparison, the Indonesian Central Securities Depository reported that the overall number of portfolio investors — as measured by the number of unique investor IDs — reached 7.35 million in 2021. It is important to note that many community members do not live permanently on the island, but also take an active part in the development of the crypto industry.
Even so, 11 million crypto investors is still only about 4% of Indonesia's total population, meaning there's still plenty of room to grow. The rise of the crypto community in Indonesia is accompanied by a number of local phenomena, including but not limited to:
Regulatory support from government bodies
Increased ease of access to cryptocurrency trading
Adoption from major local tech players
Until March 2022, there have been 17 companies registered and permitted by BAPPEBTI to exchange cryptocurrencies in Indonesia, with their userbases rapidly increasing. A market leader, Indodax reported reaching 5 million members in 2022, a 104% increase compared to 2021. Another prominent exchange, Tokocrypto, had reported reaching 2 million members by the end of 2021, an eightfold increase compared to 2020.
Indonesia's crypto community is also growing beyond just exchanges. As of 2022, the Indonesia Blockchain Association has 28 member companies and organizations, making it a local consortium and advocacy group for blockchain and cryptocurrencies. The group includes not only exchanges, but also startups and IT firms that use blockchain in their ecosystems, as well as crypto-focused media platforms. We plan to form close relationships with major figures in our business and work together to grow it.
In December 2021, crypto exchange Binance announced a joint venture with a consortium led by MDI Ventures to develop a new digital asset exchange in Indonesia.
It'll be worth keeping a close eye on this partnership in the future, but right now, it can be considered a sign that crypto is no longer a niche market in Indonesia. More mainstream players have started moving into it, which could mean more resources and momentum to increase adoption.
We also want to note a few words about the real estate sector in Bali. Everyone has long known that Bali magically attracts tourists. And this is a huge plus for the development of real estate in the region. Bali has witnessed exponential growth in return on investments and capital gains. Property prices rose by 20% and in some popular areas by 40% – the highest increase rate in land prices in Indonesia.
Bali is a top post-pandemic destination. As analyzed by the Dutch online ticketing company Booking.com , Bali has ranked second on the wish-list of its app, listed by people in corona quarantine time around the world in March and April. Bali remains a unique destination, people, whether they are travelers, entrepreneurs, or investors, know about this sense of authenticity that surrounds the island and its spirit will never fade. The variety of activities and the lifestyle one can enjoy on the island is unmatched and the fame the island has has been supported by countless websites, review portals and travel magazines for very good reasons, and pandemic or not, this will never be taken away.
The Definder team has been considering the Asian market since 2019, as there is huge potential here. A working trip to Singapore and Hong Kong showed how much influence the progressive community has on projects and start-ups, so we continued our search and found the perfect place!
Bali is still a young and very promising place for development. Bali is about:
the largest international network of young creators;
an endless stream of fresh, riveting ideas;
rapid technological development and open investment.
To make it clear, Bali impressed us with its limitless potential. This island obtained all the best with the efforts of the community.
So, what are Definder's benefits from Bali?
covering the whole Asian market.
Obtaining great potential in real estate.
gain the possibility of impressive earnings for our clients.
Now we plan to establish partnerships with infrastructure projects, real estate, and technology companies.
Definder moves confidently, not allowing the circumstances to lead us astray. We believe that it's the beginning of win-win cooperation. Soon our new project is going to reveal its mysterious essence, and who knows, it might be connected not only to Bali? We'll see.