LonRes Winter 2020 Residential Review Provides Invaluable Insight to Investors in High-Line London Properties 
LonRes, the premier data source for top London property professionals, has released its Winter 2020 Residential Review report chock-full of extremely valuable insights for anyone who aims to participate in shaping the London residential market. 
"Looking back on the last 20 years, we have seen the emergence of a new type of buyer: younger, tech-driven and very mobile,' say William Carrington, LonRes Chairman, and Anthony Payne, the company's Managing Director in their opening remarks to the report that foretells the emergence of 'the property market that will be defined by more efficient carbon footprint of new homes brought up to the highest energy efficiency standards.'

The recurring motif of the report is 'cautious optimism': as of Q4, 2019, the market has seen year-on-year transactions up by 34% and prices rise 2.4% following five consecutive quarters of falls. The report states that overall the prime central London sales market appeared to change for the better in the third quarter of 2019, flashing double-digit growth numbers in transactions. Outside central London the market was quieter, albeit with volumes still higher than in 2018. Yet what is most evident is a positive shift in sentiment resulting in more new buyer registrations and an increase in the number of properties going under offer, which in January was 80% higher than at the same point a year ago at 24%.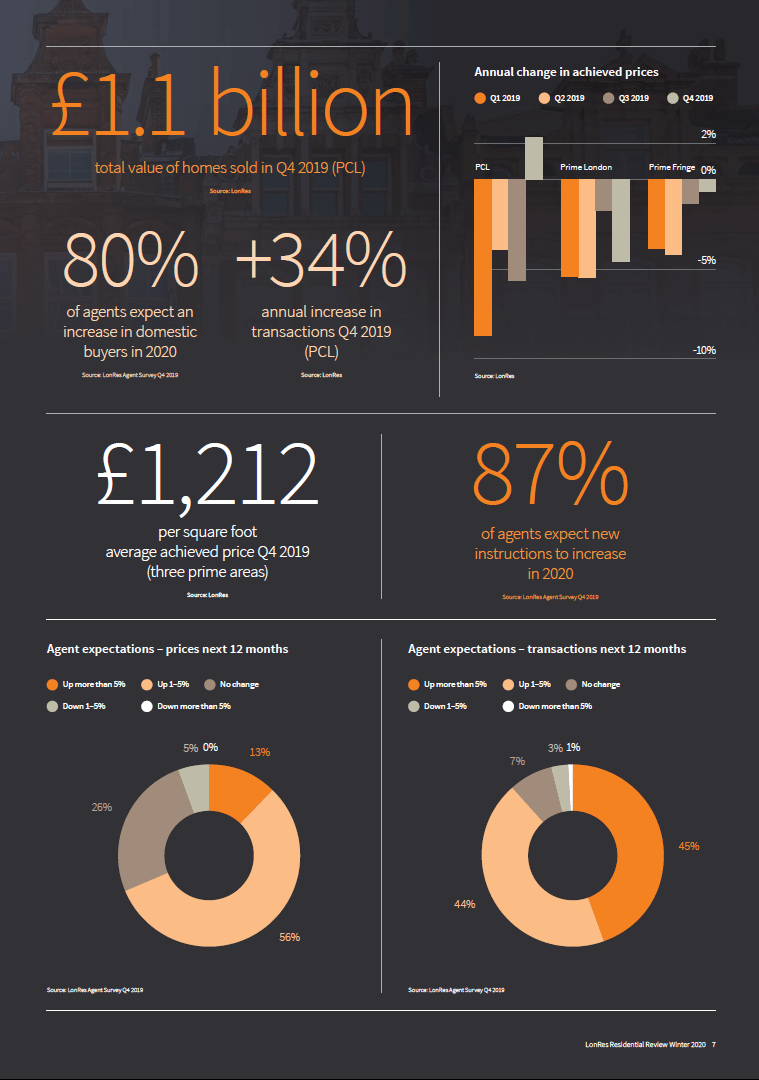 For lettings, constrained stock levels continued to support an increase in rents. Rents rose 3.5% in the final three months of the year – the ninth consecutive quarter of rent rises. 
'Looking ahead, with optimism returning to the prime market, agents have started a new decade with renewed vigour and a positive outlook on prices, rents and activity. With buyers looking more favourably at the prime market there is an opportunity to unlock some of the significant pent-up demand which we have seen building over the last five years,' says Marcus Dixon, Head of Research at LonRes.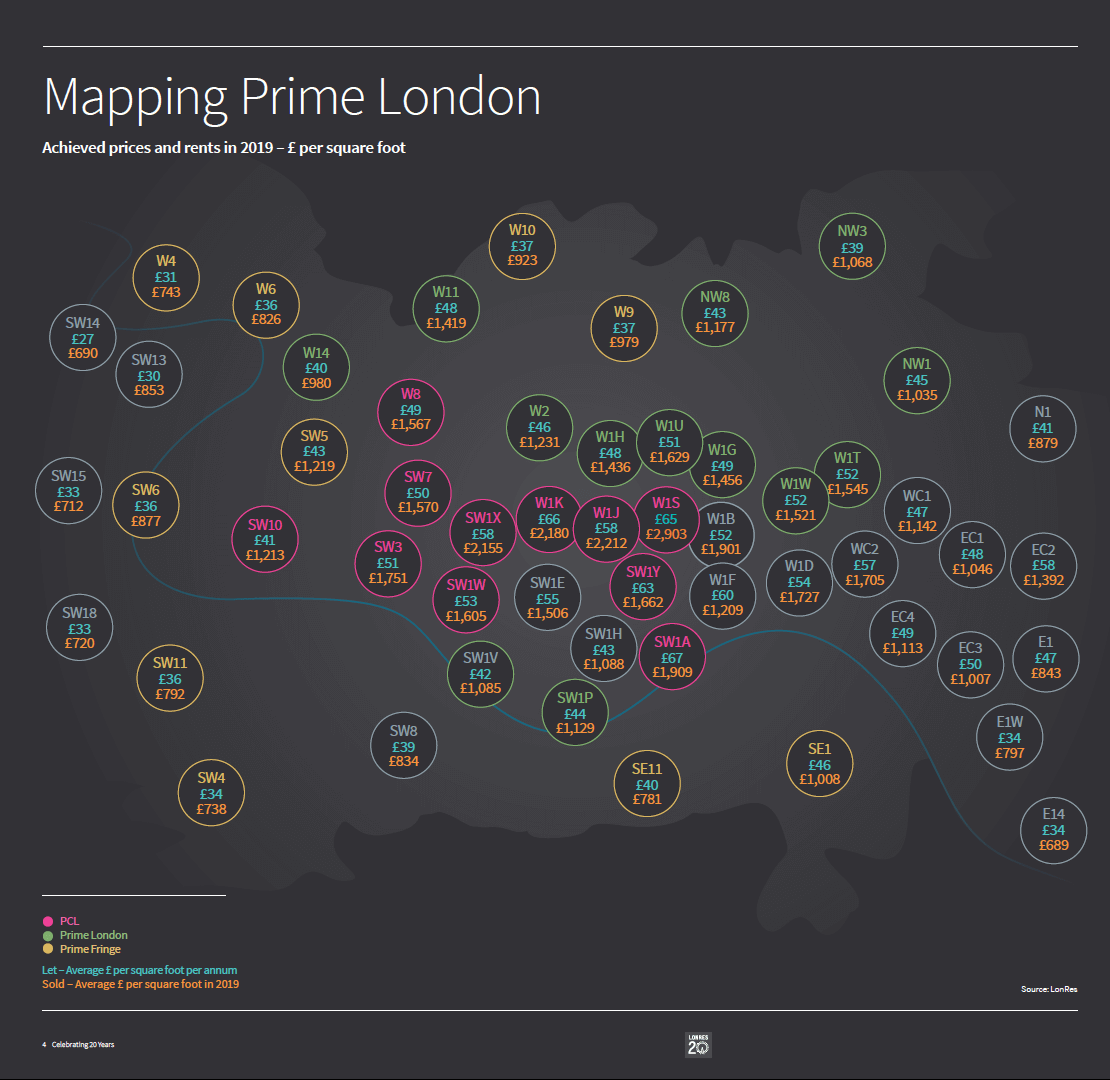 According to the report, transactions in the prime central London (PCL) market rose by 9% compared to Q4 2018. Transaction volumes in PCL in the fourth quarter rose by 34%  compared with the same period a year earlier, but fewer properties reached the market. Given that there are 11% fewer homes on the market now than there were a year ago, there is a real potential for a shortage of stock if, as the report predicts, sales volumes increase, and applicant levels rise.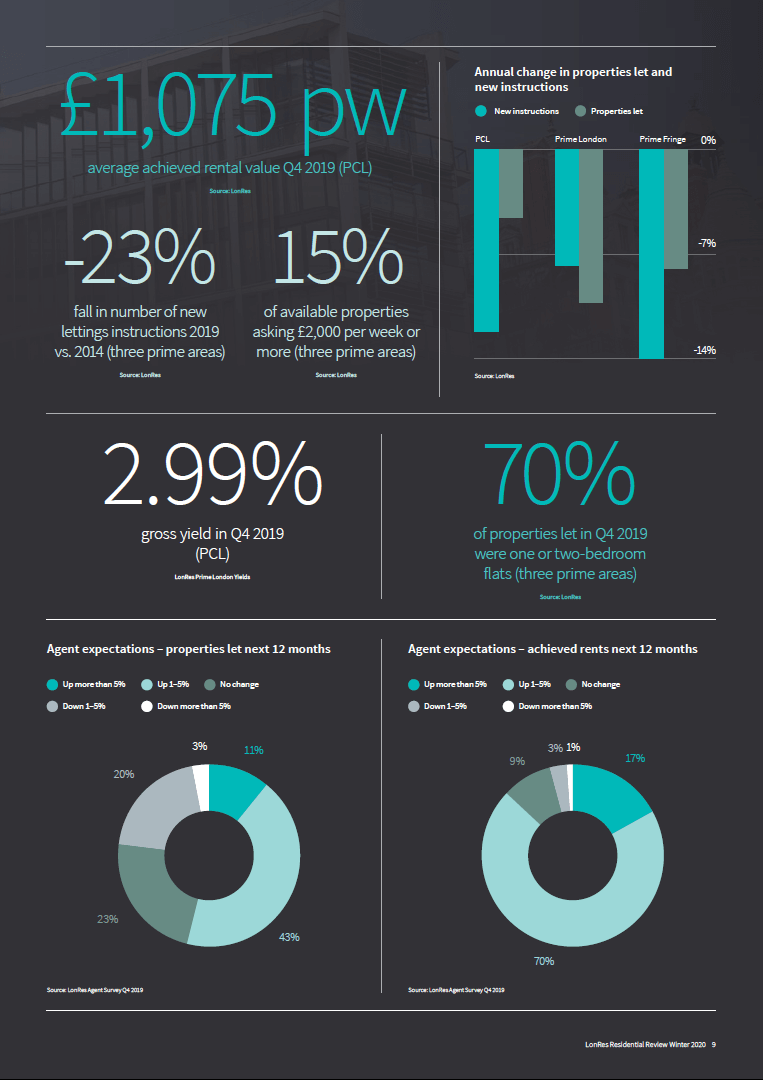 Smartlands CMO Yaroslava Tkalich comments on the report: "The prime central London property market is essentially a live organism that is uniquely responsive to even the subtlest movements in financial markets and both local and global political trends. We are glad that we have the opportunity to share the report's findings not only with the members of the Smartlands community; the joint project between Smartlands and UK Sotheby's International Realty is at full steam and the information in the report couldn't be timelier."