Smartlands Launches First Wallet for Security Tokens on Stellar
London, May 6, 2019 ‒ Smartlands, a global platform for crowdfunding investments through the issuance of security tokens, is thrilled to announce the deployment of a fully compliant Stellar wallet for on-chain trading of security tokens. The move was slated to coincide with the projected launch date of the Public Sale, and we are happy to report that the Smartlands Stellar Wallet went online as scheduled. We have prepared a special tutorial to help you familiarize yourselves with the new interface. Please, read the instructions carefully.
"Today we've finally managed to fortify our expertise to the extent that allowed us to build a new Smartlands wallet. It will be used for trading security tokens, SLT, and XLM," comments Smartlands CTO, Ilia Obraztcov, adding "We are going to continue to work towards the possibilities of adding other security tokens issued on the Stellar network (possibly on different blockchains) to the Smartlands Wallet, though, certain additional compliance procedure will be required."
Smartlands wallet will work exclusively within the regulated segment of the Stellar Network operated by the Smartlands Platform. Every investor will be required to pass KYC and comply with the current laws and regulations to be able to transact his or her security tokens on the Platform. An AI-based compliance engine will check each transaction and score AML risks preventing illicit activities.
To maintain regulations compliance Smartlands wallet is essentially a multisig wallet, implemented similarly to SEP-0008 protocol. However, in comparison with SEP-0008, there are superior features such as an account recovery and account mapping; the wallet allows investors not to expose their existing wallets to multisig, but rather create a new "dependent" account that will be controlled within their existing private key or Ledger hardware wallet device.
Smartlands wallet will enforce daily and monthly transactions volume limits, and cryptocurrency deposit thresholds in accordance with an investor's category and country. The ability to trade pairs of compliant security tokens against XLM is expected to be a dominant feature of the wallet destined to attract classical investors and enhance liquidity on the Platform. The less cryptocurrencies-savvy investors will rejoice at the integrated ability to "recover" private keys in case of a loss or compromise.
The exchange will have options for both seasoned professionals and beginners. The "light" option would resemble a Coinbase-type interface for investors focused on strong fundamentals of a project and consider security tokens a long-term investment.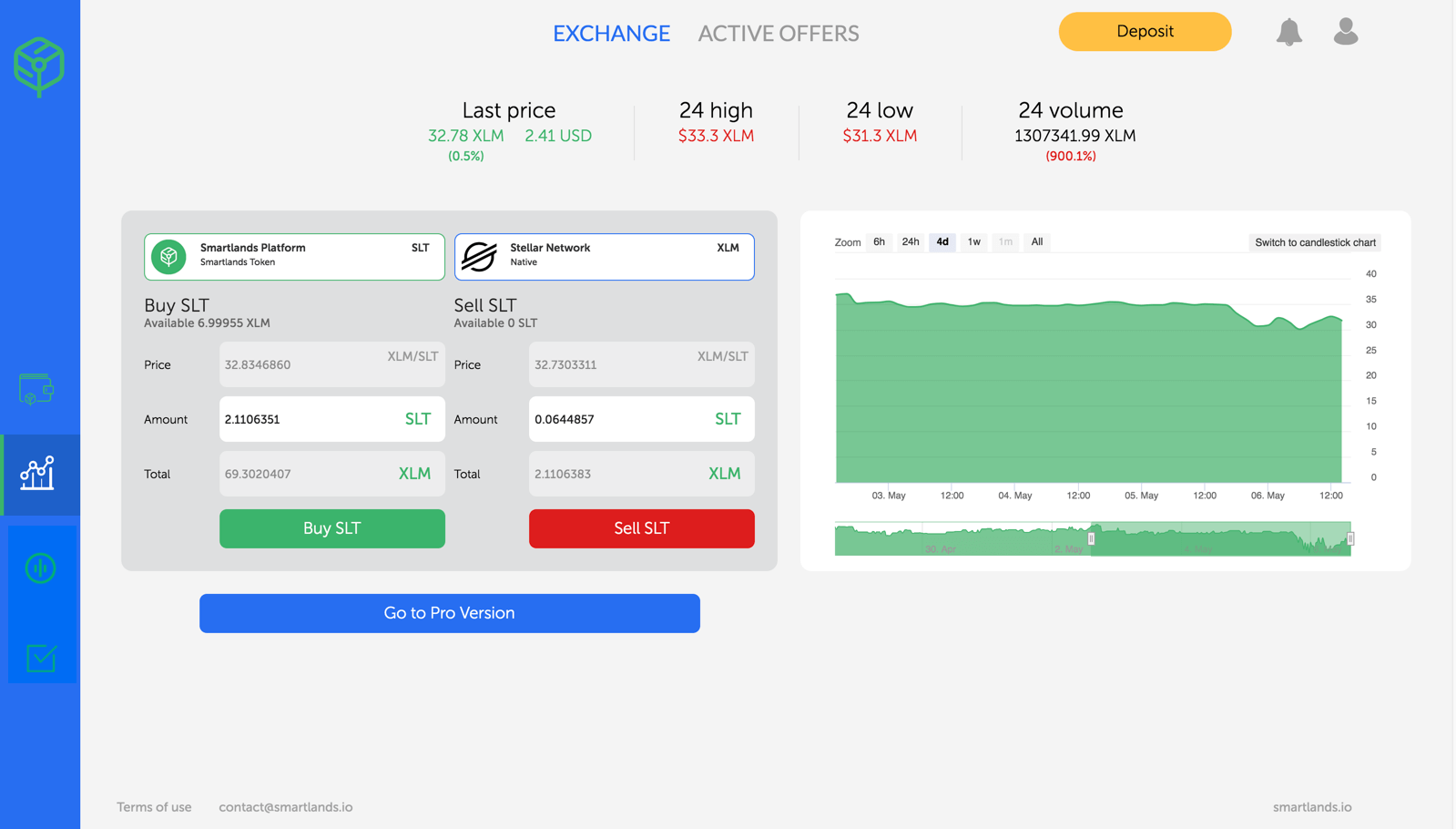 The pro version that targets professional traders and sophisticated investors will display the most critical data for daily trading, although, by all means, newcomers are welcome to try the pro mode. To familiarize yourself with the user experience of the brand new Smartlands Stellar Wallet, please read carefully the special tutorial we have prepared for you.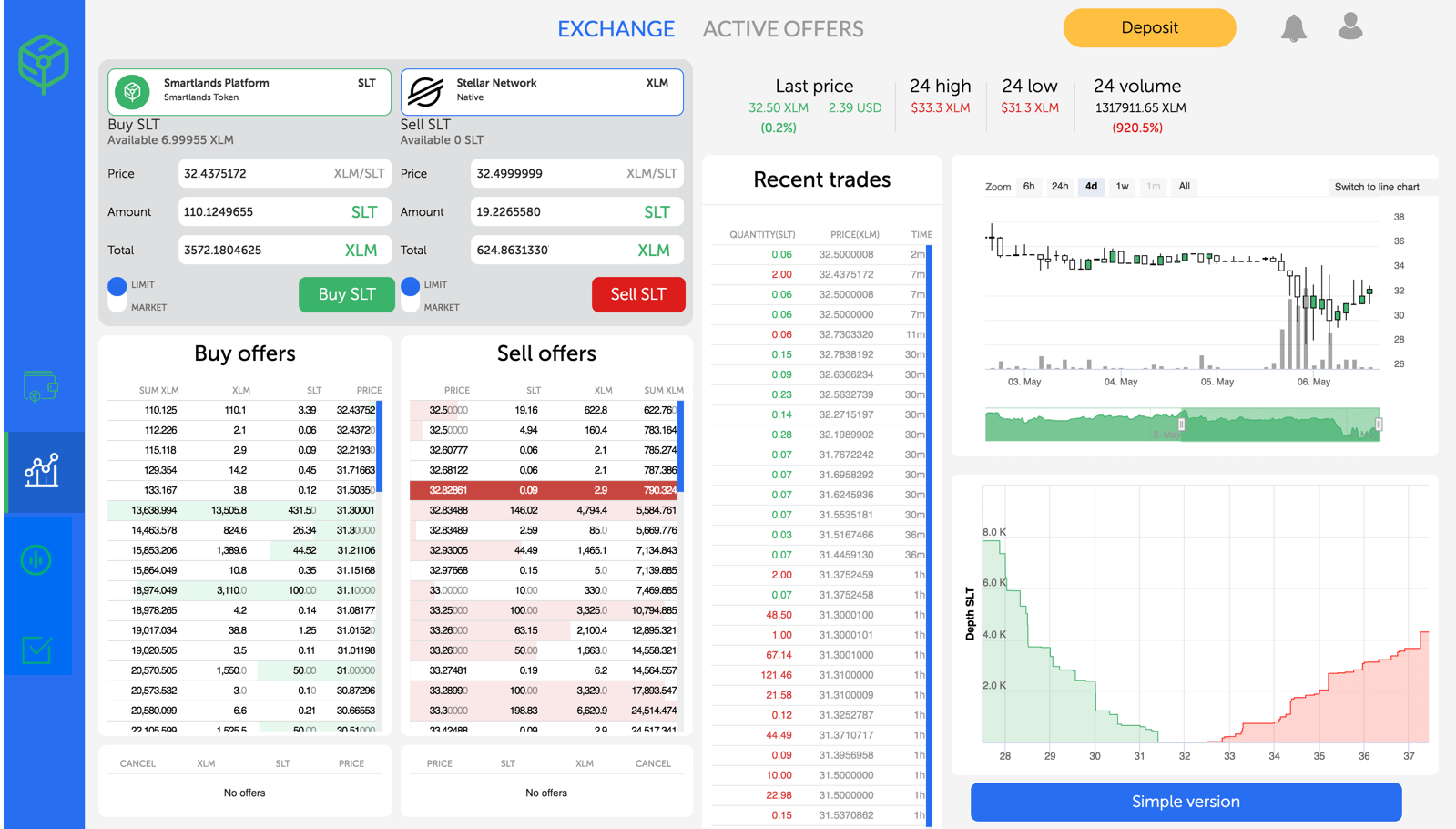 The wallet is using the Smartlands' own Stellar core and Horizon services to guarantee high capacity and 100% uptime. Smartlands will ensure that these services maintain high availability and have a proper load-balanced environment to serve a large number of investors.