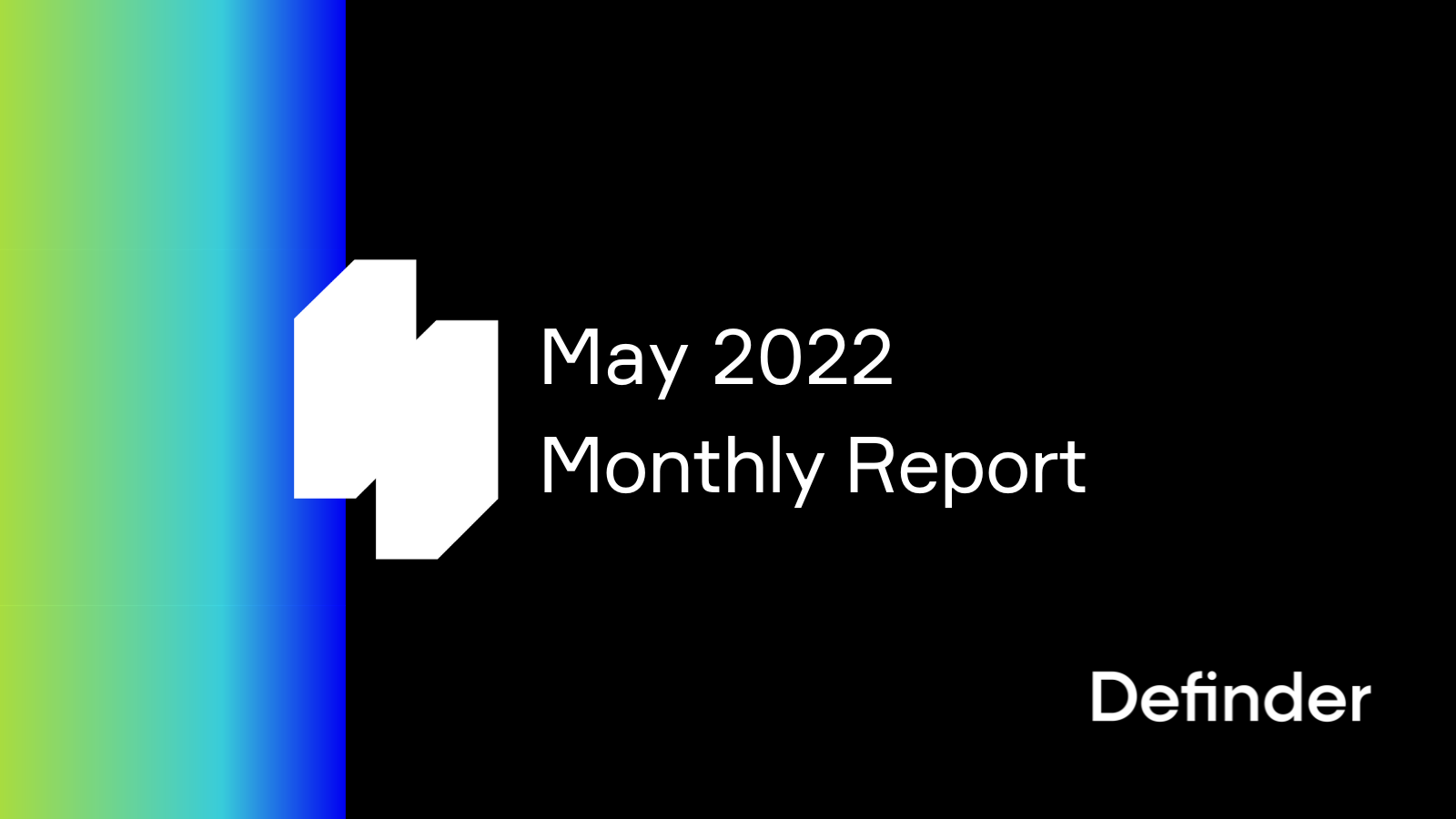 Monthly Report – May 2022
May passed very quickly and intensely for the entire crypto market. We all watched the development of events with excitement and we can say with confidence that the crypto market is a blue ocean of opportunities and dangers at the same time.
The collapse of the former second-largest DeFi ecosystem – Terra and the crash of the associated LUNA token and the UST stablecoin, have accentuated the bear season that still affects the crypto landscape. On the positive side, not all is gloom and doom. This gives a huge space for the development of DeFi projects where the strongest remain on the market, who are ready to adapt to the realities of the market and develop in spite of any circumstances.
The Definder team spent this month working on three important aspects: the swap to a new blockchain; product development; and the opening of a representative office in Bali, Indonesia.
Swap
The transition to the new blockchain has been completed successfully. Most of our users have already made a swap and received their DNT tokens, which are already based on Binance Chain's BEP-20 protocol. The bridge worked correctly and was almost lightning fast. We are grateful to our community that helped other users and created an excellent guide on how to make a swap as easily and quickly as possible.
We have chosen BSC because of the benefits that are attractive to users. Among them are ultra-fast speed, low transaction fees (only 1 cent) and a network of millions of users. Also, do not forget that BSC is behind the creation of PancakeSwap, where our DNT token is already available. It is the main DEX exchange of the network and one of the most popular DEX exchanges in DeFi.
Centralized exchanges WhiteBit and CoinsBit also completed a successful token swap. DNT trading began with a starting price of 19 cents. Unfortunately, not everything went as planned. We had difficulties with the HitBTC exchange. We had planned for the swap to take place automatically on this centralized exchange as well, but unfortunately, the exchange decided to change its mind at the last moment. We sincerely apologize for any inconvenience caused and for not keeping our promise.
We also remind you that if you missed the deadline and did not have time to exchange your SLT for DNT, then write to us by mail and we will help you:)
DF platform development
An experienced team of specialists works every day to develop the platform. The Definder platform is a cloud-based program that uses blockchain-based tokenization to provide liquidity to asset owners and opportunities for investors, laying the foundation for the global future of decentralized finance. We have taken into account all our previous experience and are now diligently developing the product.
According to our roadmap, our community will be able to see the beta version of our decentralized platform in the summer and get to know it better. We plan to talk all next month about the platform and its benefits. So that you are convinced that this product will turn out to be cool and of high quality. Let's open the DF platform together.
Representative office in Bali
Asia beckons us with huge potential, pleasant investment, and a legal climate. In the long term, the Asian market will only grow, and we want to take our part in it.
Bali was chosen after a deep analysis. Our main advantage in the Indonesian market is a strong community of open-to-investing people and partners, thanks to which we will be able to speed up all processes and actively use our DF platform to start generating profits.
–
The plan for the next month is simple and clear:
Product development
Cooperation with Bali
New partnerships
Team update
Interaction with our community and nice bonuses for them 🙂
The Definder team is moving along the intended path and continues its work. We talk to our community, look for and develop partnerships, and update and improve our team. Of course, we meet obstacles along the way and they lengthen some processes, but we do our best to meet deadlines and constantly show you our progress.
Thank you for your trust!