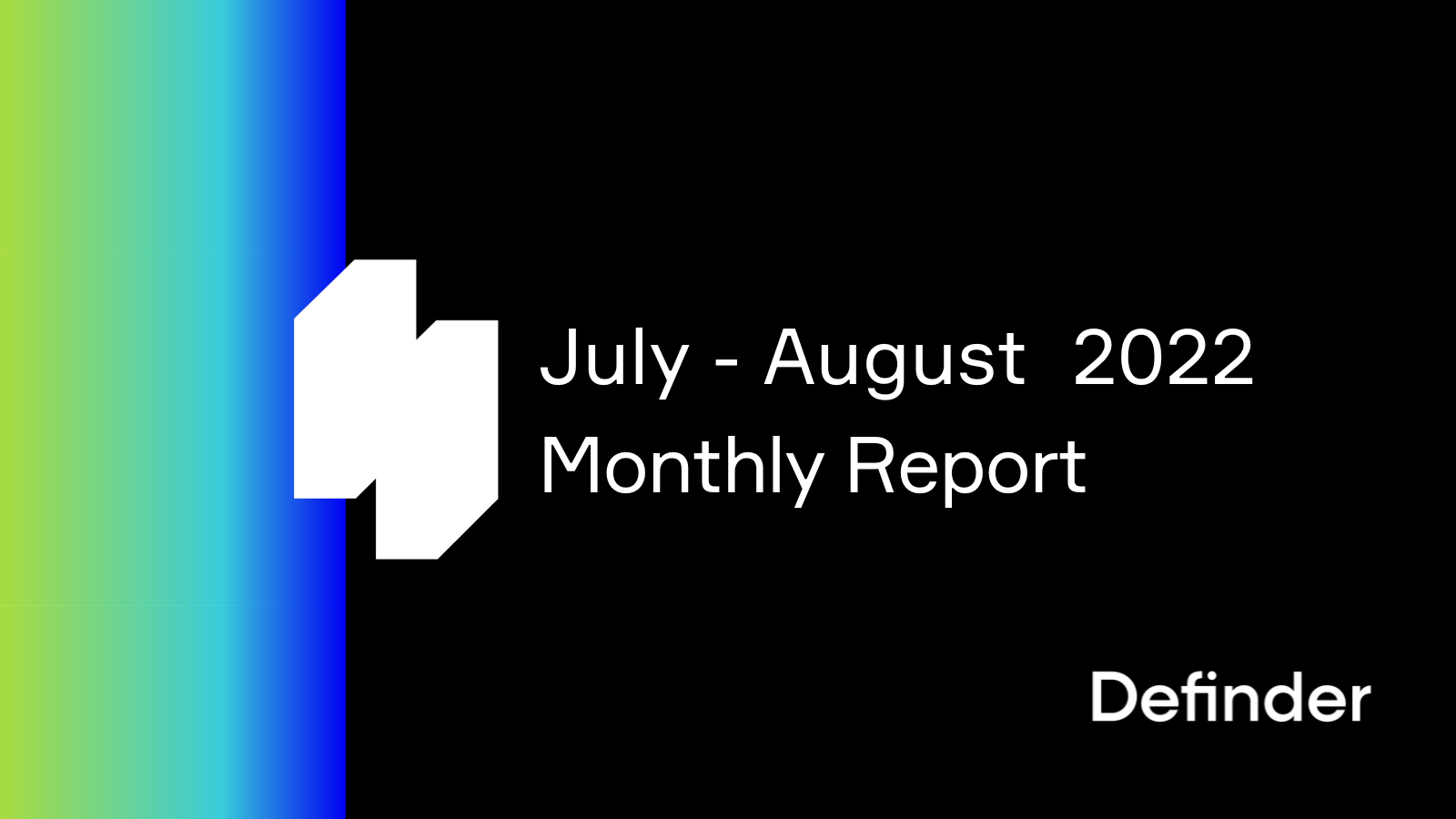 Monthly report
In order to accomplish Definder's fundamental aim of releasing the beta version of our product, July and August vanished completely unnoticed and melded into one long month. And now we wish to summarize the results of our recent productive effort.
1.0 DF Platform
Our platform has been developed over a thousand hours in order to give you, our community, a high-quality product that may help you move closer to the easy and quick interaction between virtual and real assets.
The public launch of the DF Platform on August 22, 2022, which is also Definder's founding anniversary (August 22, 2017), is significant to us. Even though a lot has happened in recent years, our plan to make decentralized finance more widely available is still gaining ground.
DF Platform is a custom product. The platform was developed by a team of 16 people, and everyone contributed to the development. A few numbers to more clearly show how much effort has been invested in the product.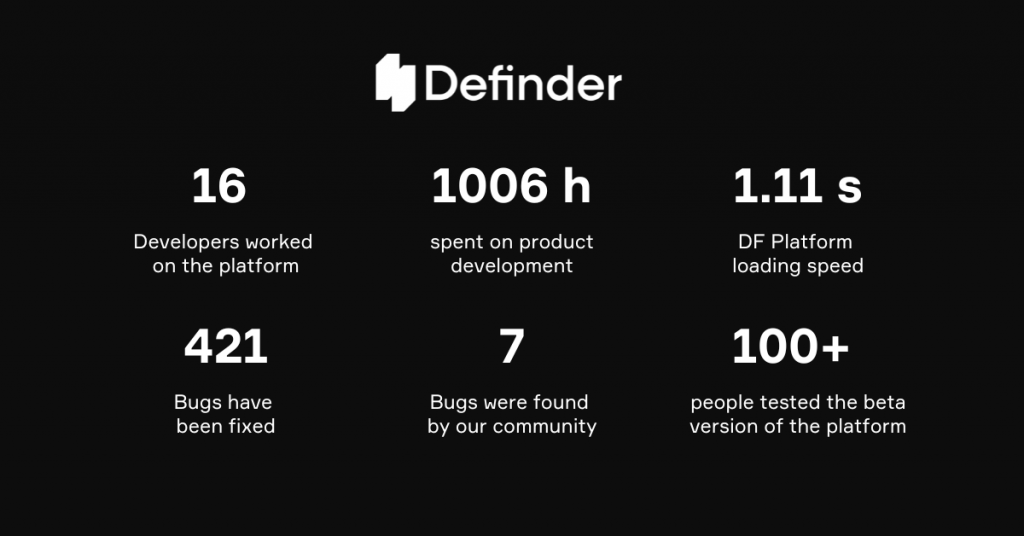 The DF Platform 1.0 product was developed as a global, transparent, flexible platform for connecting projects from the real economy with cryptocurrency fans who are willing to fund ground-breaking ideas to improve this world. One of the foundational tenets of our platform is the second generation DeFi and DAO. DeFi has a number of parts, from data management to insurance, loans, and DeFi coins, all of which contribute to making the experience of using financial services more democratic.
We especially want to thank our community for providing their frank opinions and suggesting ways to improve the platform. For instance, we were asked to make project funding implementation a little more user-friendly, thus we are currently trying to incorporate BSC wallets directly into our site so that everything can be done with one click. The Df Platform and the Metamask wallet will soon be integrated.
We also want to mention that, concurrently, efforts are being made to create an iOS and Android mobile application because we understand how crucial it is for our users to have easy access to their funds. Additionally, we carry a smartphone at all times.
Partnerships
Along with continuing to develop our product, we have also been negotiating with numerous businesses to offer our product and establish cooperative relationships. You will soon see the effects of Angela Topchiy's (regional representative in Indonesia) diligent work in creating the necessary communications. China, Indonesia, Thailand, and Singapore are markets where DeFi is growing in popularity, and Definder will keep moving in this direction. We recognize the potential of the Asian market and are currently actively researching and speaking with market participants to determine the most effective way to fill our niche.
We are confident that the right partnerships will help strengthen us and move us in the right direction. We are moving in small steps, but confidently towards our goal.
Also, we invite blockchain, cleantech, healthcare tech, real estate, robotics, and almost all markets where you can develop a profitable and interesting solution for cooperation. Maybe we can help each other 🙂
Burning SLT
A total of 6,027,585 SLT were burnt, or 84% of the old SLT token supply. That is the percentage of users who successfully completed the swap. Currently, 87% of swaps are successful, which is an even greater ratio. These tokens have been permanently and irrevocably removed from circulation as promised. In order to prevent people from being misled, we are permanently separating SLT from all CEXs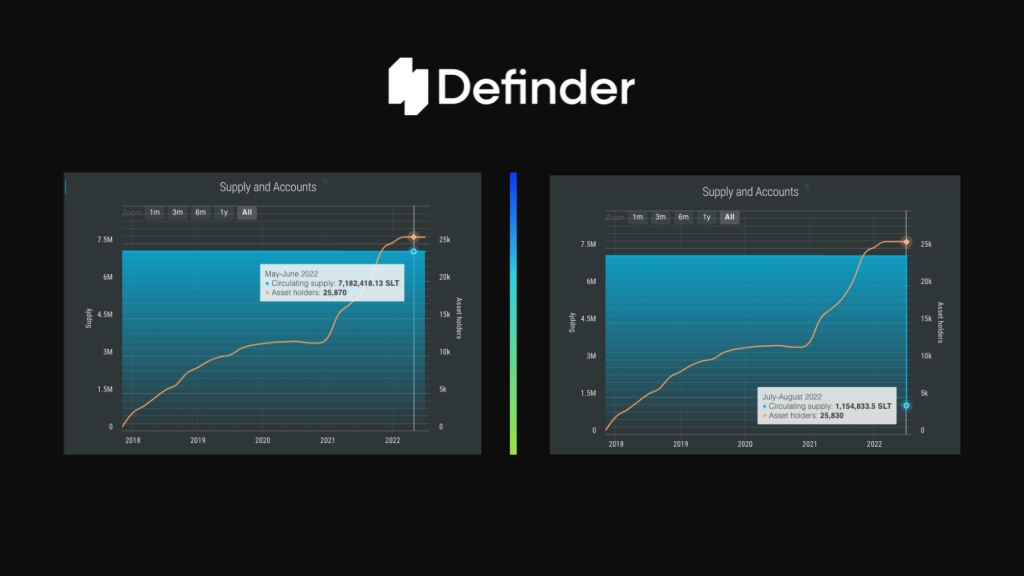 Users can currently perform swap themselves on the bridge page. We will assist you if you contact us with any problems.
_
Summer flew by in a flash. When you are passionate about your work, things like these happen. We have been actively involved in the development of our product and now we are finally showing it to you. The Definder team is moving relative to the intended roadmap.
In order to meet deadlines and continually update you on our progress, we put in the most effort possible.
The next month also promises to be busy:
product update
wallet integration
listing projects on the platform
new partnerships
new regional representatives
more communication with the world and our community 🙂
Now we are actively working on the selection of projects for listing on our platform so that users can already use it for its intended purpose.
We appreciate your trust and look forward to more good news soon!