Smartlands April Achievements, Triumphs, and Updates
Hello, all, and welcome to the April edition of Smartlands newsletter – your one and only source for news and updates on all our projects!
In April the team was mainly concentrated on the private stage of the fundraising round Smartlands+Smartee on Seedrs we kicked off earlier on March 25th. We are grateful to our community members, individuals and organisations, who supported us at the private stage and helped us reach over 50% of the initial investment target. This result indicates a genuine interest in our project despite the pandemic and rapid decline in worldwide business activity. 
We are happy to inform you that Smartlands+Smartee launched the public stage of a funding round on Seedrs to sell 2.53% of equity stake at a pre-money valuation of £15,400,000. Smartlands will use the capital for expanding the internal engineering team, funding a freemium model for customers in 2020, and obtaining the rest of the necessary licenses to move forward. 
All are welcome to review the Smartlands offering and sign up to participate in the public sale: https://www.seedrs.com/smartlands.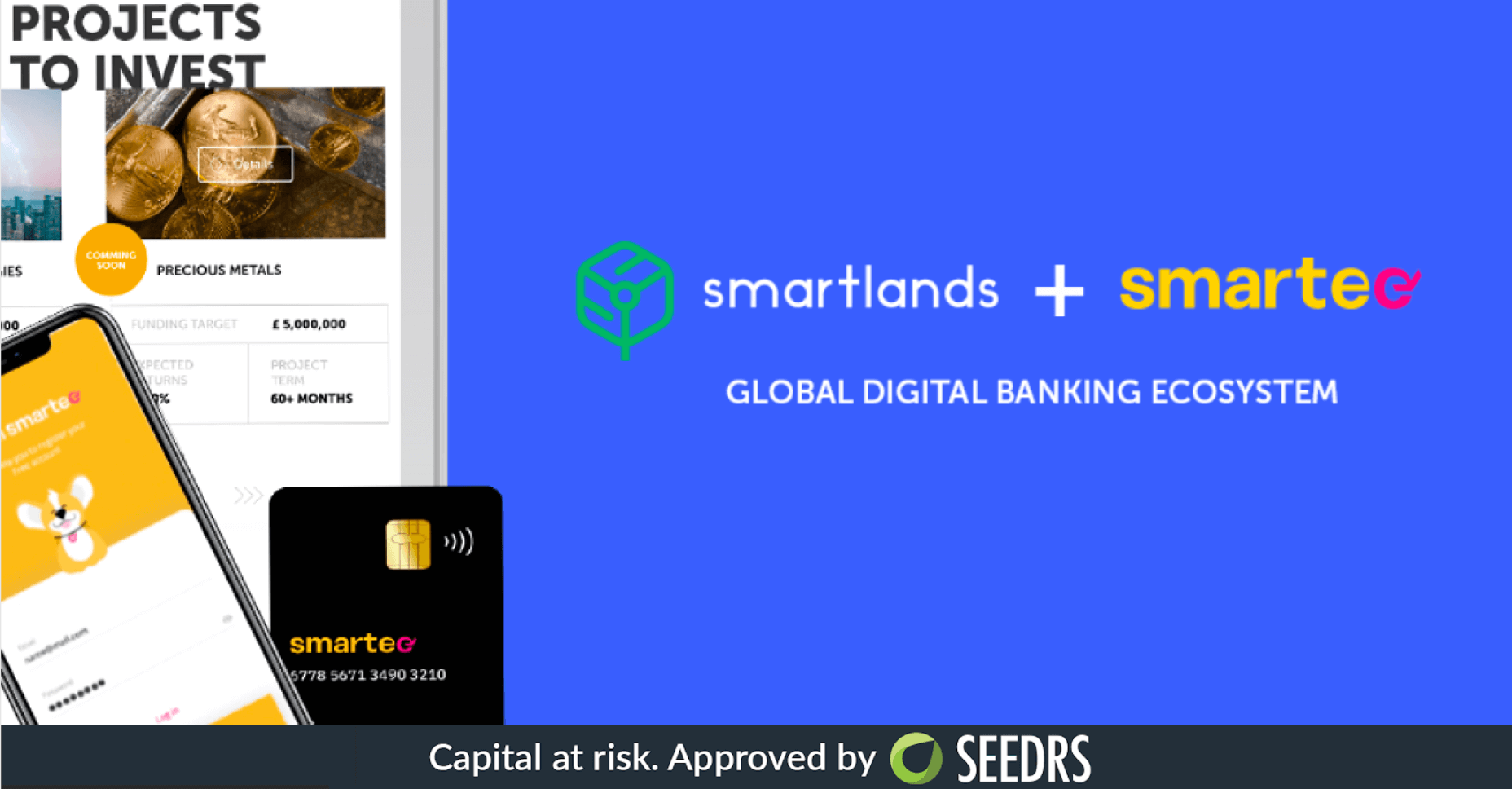 Additionally, we are open to direct private placements; interested investors can contact premium@smartlands.io to discuss conditions. The offering on Seedrs is a part of our bigger strategy of bringing in investments through the sale of a 12% equity stake, most of which we plan to raise through VC firms.      
If you have any questions regarding onboarding or any other issue with the fundraising on Seedrs, please contact us at venture@smartlands.io. In the unlikely case, our team is unable to help, Seedrs support will always be ready to step in.

Making tokenisation available for everyone! Smartlands launches Fundraising Plugin for Websites
In a recent blog post we have presented new services that Smartlands plans to develop for varieties of business clients: starting from small enterprises that previously have had no experience with investment and crowdfunding, ending with prominent companies seeking solutions to optimise existing operational processes and significantly reduce costs. And now we are delighted to announce that Smartlands is launching its very own Fundraising Plugin to meet the demand of this audience…Read more
Investment and Digital Banking Ecosystem, Smartlands, Launches Public Round of a Funding Campaign on Seedrs
Global blockchain-based investment and digital banking ecosystem Smartlands has today launched the public stage of a funding round on Seedrs to sell 2.53% of equity stake at a pre-money valuation of £15,400,000…Read more
Smartlands to Release White Label Services for Business to Get Ready to Post-COVID-19 World
During the last 2 years, our team obtained huge experience that we feel proud about, namely studied compliance in 50 countries, developed a jurisdiction-agnostic solution for fast confirmation and settlement, learned how to sell digital securities for fiat and digital currencies, and listed high-profile offerings on the platform. The team has also obtained sufficient raw data and thoroughly analysed patterns of customer behaviour. Now we understand the most requested features on the platform, our value proposition, as well as UX improvements to focus on in our technical solutions… Read more
Smartlands Launches a Pilot Version of an Updated Platform Interface
Today we are thrilled to inform you that Smartlands has launched a pilot version of an updated platform interface in a test mode… Read more

Smartlands Semi-Annual Overview
As the new quarter of 2020 started, our team is analysing the results of the previous periods and building projections for the next ones. Not an easy task we must admit as the issue of a pandemic and worldwide economic downturn has become a significant variable in calculations. Nevertheless, we stay optimistic and aim to fulfil all the milestones declared at the beginning of this year… Read more
The Tragic Covid-19 Pandemic Could Be an Opportunity For Fintechs Who Learned The Lesson of 2008
Fintech startups looking to transform current investing trends or disrupt traditional banking are facing their first major test as Covid-19 pandemic bites into the very fabric of our society. As interest rates fall and fearful consumers seek safety in tradition, brand new industries like digital banking and online investing that never experienced a major market slump now must prove their business models can withstand a crisis… Read more


The Tragic Covid-19 Pandemic Could Be an Opportunity For Fintechs Who Learned The Lesson of 2008

  The industry is unstoppable – the list of benefits is too long

The Tragic Covid-19 Pandemic Could Be an Opportunity For Fintechs Who Learned The Lesson of 2008

 Best Crowdfunding Platform 2020 Awarded Smartlands