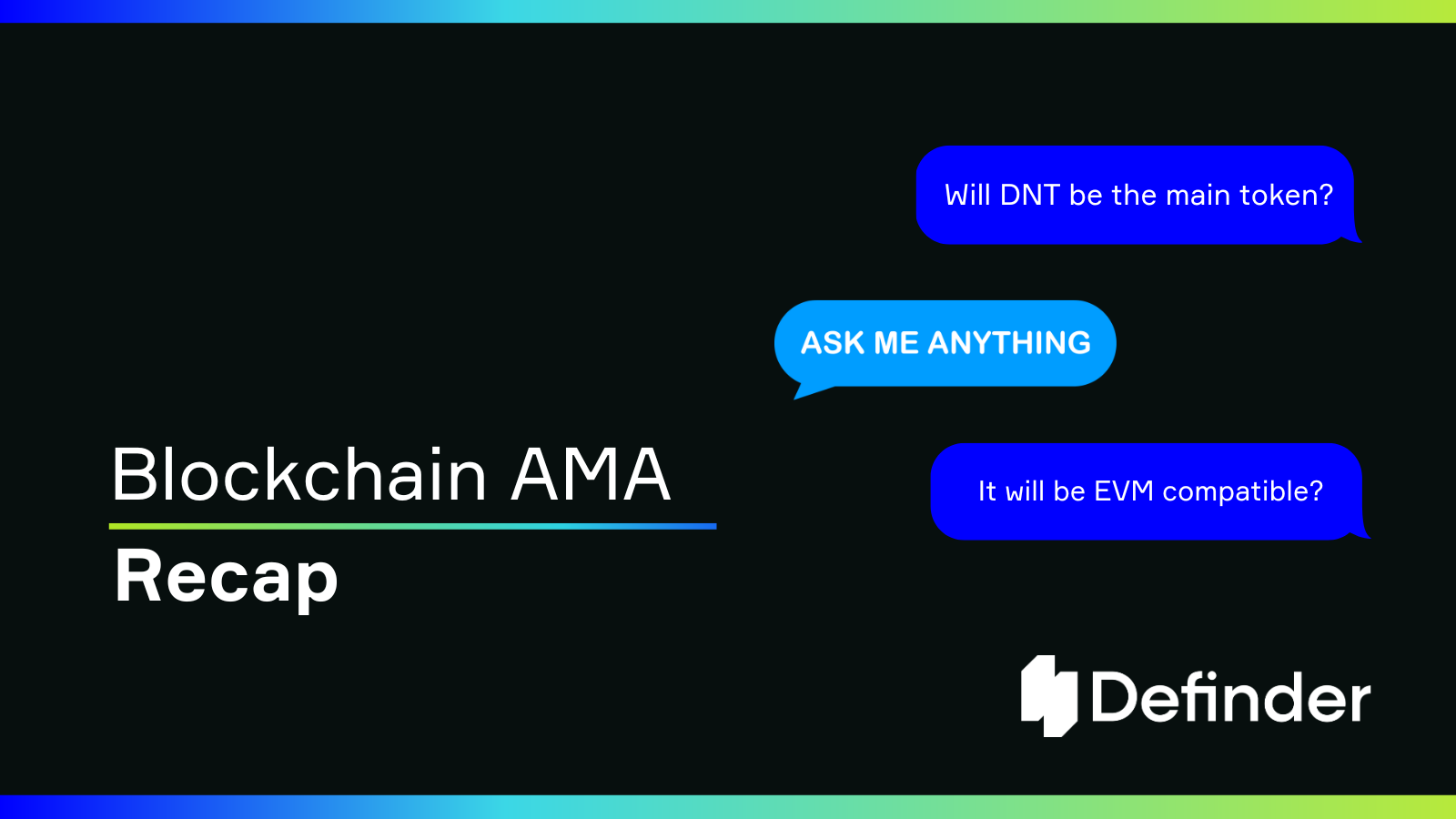 Recap of our AMA with Alex Bart and Dmitriy Fink: Our Own Blockchain, DNT and more
Greetings, Community,
We are thrilled to have your undivided attention today as we recap the highly engaging AMA session that took place yesterday. Our esteemed CEO, Alex Bart, and the talented Project Manager of our blockchain development team, Dmitriy Fink, answered a wide range of questions from the community. We extend our heartfelt gratitude to all who participated and expressed their interest.
Q1: New mainnet coin will be airdrop for dnt holder?
Alex: DNT will be the coin! No need to do airdrops, as it's on the market already. In our joint development of the blockchain, we all agreed that DNT is the native token.
Q2: How we will benefit from investing in your blockchain idea?
Alex: The first option: there will be crowdfunding through the DF Platform. So, the actual success of the peer-to-peer lending mechanism that we have, will be great for the platform as a success case. At the same time since the DNT token will be the native token on the platform, you are basically helping yourselves by investing in it. Because once the blockchain is used, there's going to be more and more demand for the DNT token. And normally, when demand goes up, the price goes up too. Another thing that we came up with the development team is that we will be also looking at interesting ways to add value to the people who finance the specific project. At the later stage, we could airdrop special NFTs to them. That would give them additional future utility and perks within the ecosystem, but this is a plan for the future that would be a bonus. The main point is that this would be a P2P lending case study on the DF platform. And by actually being a success it will bring success to the DNT token, as a native token and it will be a proven successful case on the DF Platform.
​​Q3: Can we get a roadmap for new blockchain?
Dmitriy: We can split the question into two parts. The first one is how the project will be approached internally by our development team and of course, we have our detailed development plan. Another part is the product part which we will see ready to be used. To put it simply, the development will take from 7 to 14 months. In the best case scenario, we commit that we can deliver it in 7 months. But it depends on the funds, for example, if we are able to raise 600K USDT, then 7 months is the development timing. In the worst scenario, if we have only 300K it will take 13 to 14 months.
Alex: And keep in mind that we are not working from scratch here. The development price would have been higher and the time would have been longer but we are already working with the team in stealth mode.
Q4: news says now you will be developing a blockchain, and the news more than a month ago say that you've been working on it already in stealth mode. so how far away are we from something concrete?
Alex: That's what I've just mentioned. if it was from ground zero this would be closer to the million or 900000. And also it would take about two years to develop. We have enough preliminary work done that we can do it as fast as 7 months.
Q5: Almost noone has succeeded at NFT games in Web3 space. It requires lots of artistic/engineering talent, money, time and luck. How is Definder positioned for games development?
Dmitriy: I think it's not entirely true that no one had success. And I guess you underestimate NFT as part of the blockchain industry. NFT is not only about games but first of all, a unique identification of something. If there is a request from the community to create a gaming or entertainment business using NFT in our ecosystem, then we are happy to create a separate division to carry out this line of activity. Part of our development team has already created successful NFT games and understands the mechanics of creating them. With a successful track record in gaming, I think we have pretty good chances here.
Q6: great to hear kyc is a big point, bc it becomes more and more a problem.
Alex: Myself, being from the financial sector and securities trading, I know that banking and KYC are very important more and more these days. We are going to focus on staying within global regulations on all points. So for all regulatory issues, we want to be on the right side of the fence of that. And the architecture of what we are doing is compliant with KYC regulations.
Q7: The new blockchain is independent of the (finished) DF platform I suppose; are there any updates as to attracting investors and projects for the platform?
Alex: This blockchain project itself will be added as one of the first cases to the DF Platform as well as the real estate-backed projects. This is in line with what I said during my first AMA and all the conversations that we had before. As I came as an interim CEO I wanted to flash out all the prior history and start fresh with what is actually on the Platform, and I decided to go with two projects more or less in parallel. One is going to be a high-potential project, which is the blockchain project. We also have negotiated with our partners that DNT is going to be the native token of this blockchain, and it's two-for-one for you, guys. And then the other project is a conservative existing real estate project with cash flowing in Antwerpen that can pay a P2P lending interest rate.
Q8: First funding project of definder is going to be launched on the new mainnet? Please let me know the project launching date.
Alex: We are going to launch these two projects that I was talking about with our existing smart contract, we are going to get them financed and with that financing, the development team will finish the blockchain development and put it to work. And we will start using it on our platform. But now we are using the existing technology.
(Note on the date: the launch of the projects on the Platform will be announced at the nearest time)
Q9: Will this Blockchain be 100% MiCA compliant? Yes or No?Dmitriy: Yes, of course. As Alex said we will be compliant with all the regulations on the market we operate.
Alex: Yes. And as I am based in the EU, in Belgium. I want to make sure that we are definitely MiCA compliant because of the EU regulations.
Q10: Are (SMEs) going to be utilizing this blockchain for funding/crowdfunding purposes?
Alex: Yes, of course. We will continue to focus on small and medium enterprises (SMEs) since they are most in need of DeFi solutions. From my experience, working in emerging markets there're two types of markets that are very much underserviced with the existing global financial system and that is SMEs everywhere, including in developed countries. If we take the US, Canada or Europe, there are some solutions but they are still very difficult. Sometimes you need to have a co-signer of a guarantor or collateral or you have to be in business for 2 years before they give you a loan. There are different issues with that. And even large companies and governments sometimes have issues with financing. So, DeFi is good for emerging companies and emerging markets. And we will be using it to help them out and to get a market share of that.
Q11: What will be total supply of tokens? Will staking be utilized? What is the use case for token on blockchain and what's it's value proposition to this blockchain?
Alex: First of all, we are using the DNT token and supply will not change. That is definitive. What we have right now with DNT is what we are going to use. As now we have the staking, we will keep it going. And with the new blockchain what we are trying to do is we want it to be adaptable to ideally fit all value use cases. Decentralised financing, NFT space, and social and game sectors are to be serviced with it.
Q12: What's the name of the new chain?
Alex: We're still open on the name, and wouldn't mind the input of our community on that.
Q13: Why is DNT not the main token of the new chain? would be another use case which will increase demand
Alex: it's the main token.
Q14: When will the first public transaction be? when can we first use the new chain?
Alex: As we said before, depending on how much money we raise the timing could be between 7 and 14 months. Meanwhile, we are using our existing smart contracts within the DF Platform and then we will switch to this new blockchain when it's ready.
Q15: Thanks to the team for your work. Looks like you got a good plan and the best people to make it a great success. Keep it up!
Alex: Thank you!
Q16: Will there be new tokens with the new blockchain? Will it be possible to swap our dnt 1:1? Will dnt still be the most important token? What do you plan to give more value to dnt (liked Slt tokenomics)
Alex: As I said before, DNT is the main token, there's no swap needed.
Q17: PBFT is permissioned consensus, what entities will be permitted to run a node, why would they want to run a node?
Dmitriy: PBFT consensus is not really the famous one, but the advantages are quite obvious, they are its speed and security, so we plan to use this consensus. Each individual future product will have its own validation node. This means that you can use your product as a side chain connected to our PBFT blockchain. And this is the main reason why we go with it.
Q18: Real estate seems to be back on the table, but you've had a lot of difficulties and legal issues beforehand. What makes this blockchain different? Which legal obstacles are still open?
Alex: It is not so much the blockchain that caused the difficulties, the legal difficulties were in different changing regulations related to digital assets in different countries. And there's also a cost and practicality issue because when we were last trying to get the license in Liechtenstein, the issue was how much it would cost to set up the license infrastructure and that cost was comparable to the project size. We will probably go with the licensing in the Baltic states, where the licensing cost is much more palatable and easily distributed on the project.
And right now we are working on P2P lending which is allowed to be exempt from regulation, because it's directly from the lender to the borrower and that's how we are going to do the real estate, we are not doing the real estate ownership we are doing P2P lending.
Q19: I see no mention of ISO 20022, isn't that a basic requirement if you plan on integrating with the finance sector?
Dmitriy: Yes, as we said earlier, we will be compliant with all regulations. ISO 20022 is a basic protocol for transactions and communications and we will definitely be compliant with that.
Q20: Which feature that the new blockchain is planned to have, does not yet exist on an existing blockchain? I'm curious about the exact features, not about things like "unparalleled accessibility, transparency...
Alex: The key features for us are Security, Bridging and Global Compatibility, and Independence. And the reason is if we are running on someone's blockchain and there's a global fall of that ecosystem we will be tied to go down with that ecosystem. So it's not so much that it's completely different from other networks, we just don't want to be dependent. For instance, right now, we are on the Binance chain, if Binance goes down like FTX we are out of business. Security wise we don't want to be tied to someone else. And also about the compatibility, we feel that we can do better with the bridging and more ergonomic in usability.
Q21: Why continue with the shell of DNT rather than just starting fresh? I'm glad you're here as I am holding onto quite the bag … but I just don't get it!
Alex: DNT and its prior history as SLT along with the wonderful and faithful community are very important to us. Furthermore, the history of the project is such that it was the first to tokenize real estate for retail investors LEGALY in the UK. This operational track record along with all the development done is what makes it worth holding on to. And I think it's important to continue and scale this success.
Q22: Could you describe upcoming milestones you plan to achieve and provide corresponding timelines for each.
Alex: We covered this question previously.
Q23: Every single article about Definder feels like a pile of marketing keywords. Why new Blockchain? Why Blockchain at all?
Alex: By listing the blockchain projects we are using the mechanism of the DF Platform. It is also two in one goal: we will list it and crowdfund as a project on the DF Platform and use it for the platform when it's ready.
Q24: How do you hope to get people to use this new blockchain ecosystem, Definder platform, peer to peer lending? You need to get it out there for people to know about it. What marketing plans is there
Alex: We plan to utilise different online and offline marketing channels including partners and influencers in different markets. Taking part in large global events is also key. We will focus on promoting the DF Platform which in turn will be a key part of the ecosystem.
Q25: How many TPS will be able to do?
Dmitriy: We plan to have 600 transactions per second and more. To give you a comparison, ETH TPS is around 30.
Q26: It will be EVM compatible?
Dmitriy: Yes it will be EVM compatible. We want to be compatible with the entire DeFi market.
Q27: We can bridge/swap our DNT for the new blockchain token right?
Dmitriy: DNT will be the main token of the blockchain, we already answered this question.
Q28: When will DNT be back on the menu?
DNT is on the menu now, just at a very low price, so it means a good opportunity to gather a large stack.
Q29: What's happening with the crowdfunding idea? Any updates?
Alex: Peer-to-peer lending is fully functional and this Blockchain project will be opened up for funding. In addition, we will list a Real Estate backed project as well for diversification. Prior projects did not prove fruitful. Full crowdfunding such as equity will be possible only after getting the financial licence and this will be done above 57 cents price once there is access to treasury.
Q30: When will marketing begin? without investors this project will struggle to lift off the ground. It's time to start growing interest!
Dmitriy: We are already doing marketing but with a limited budget because as mentioned earlier most of our budget is locked in the treasury until 57 cents price.
Q31: Will the NFT marketplace mentioned in the 4 step plan consist of NFT's tied to real world assets?
Dmitriy: Technically it will be tied to assets, but legally we are working in this direction. Most likely NFT can be used as a "coupon" to receive a real-world good or service.
Q32: You mentioned earlier that a bridge would be available for a swap for dnt and the new blockchain token? Can you please clarify this event.
The DNT token will be the native token of the new blockchain.
Q33: When will new full time Ceo be announced?
Alex: I am working full time, but am in negotiations with potentially a more qualified CEO who will also be able to take care of attaining our licencing and full operation. When a new CEO comes I will still be onboard as an advisor. More updates to follow.
Q34: SLT holders feel like 33% has been stolen. Please burn 7 million DNT.
Alex: The 7 million DNT is not on the market, it's "blocked in a box". It's all that is left in treasury and it is locked until the price is above 57 cents, in fact at current there is no dilution because the tokens are not allowed to be sold at the current price. If we burn them as you suggested we would have to close operations and go home because there would be no future payment source to run the company. On the securities market, companies are allowed to issue up to 33% of new securities, and it's what we have here. The fact that this amount is not on the market there's absolutely no effect on the rest of 66%. When we will be able to unlock the treasury, we will be very transparent in what we are spending for.
We understand that there may still be many aspects of our project that you are eager to learn about. Therefore, we are excited to announce that another AMA session is in the works, where we will delve into other important facets of our project. Stay tuned for upcoming announcements and be sure to join us for the next AMA. Your continued support and engagement are invaluable to us as we strive to provide you with the latest updates and insights.
Thank you once again for your questions, enthusiasm, and unwavering interest. We look forward to sharing more exciting news with you soon.
Warm regards,
Definder Team